No time? Limited funds? We've got you covered.
The thought of a school Halloween party can be stressful...kids with fangs and masks on a sugar high can add up to be a teacher's worst nightmare. Still, I absolutely love this time of year both inside and outside of the classroom! There's no better time than Halloween to show to your school (and the community!) just how on point your squad is. Costumes are always more fun in a group, and they're a fun way to show off your creativity while relating to your students.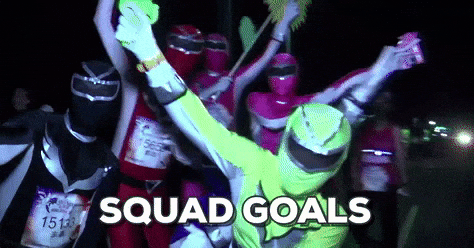 I have to brag about my team here for a minute...these girls keep me going! Whether we're in the guided reading trenches or planning for our annual talent show, my squad keeps me motivated and laughing at all times. Here are our costumes from over the years, with some DIY tips on my particular costumes!
Candy Land
Dressing as the characters from one of the kids' favorite games is an easy go-to costume. This idea can be stretched or shrunk depending on the size of your team. This year, I was Queen Frostine. My friend Jesica at From Bow to Toe made me this fabulous tutu adorned with tiny snowflakes. I added a coordinating long sleeve tee and some leggings for warmth, dug out a crown from my days in pageantry, and fashioned a wand out of a pointer I had in my classroom. The whole school will know just how sweet you are in these adorable costumes!
50s Chicks
We had so much fun with this fashion throwback! This photo is actually from our 50th Day of School celebration, but could easily be a cute Halloween costume.
This idea can also be adapted for your favorite decade.
I used this easy tutorial
to fashion a felt poodle skirt. Paired with a top I already owned, cute glasses, and a silk scarf, I was ready to rock and roll!
Your team won't be hard to spot in this look! Gather up a villain and 101 of your teacher friends, and you'll have a costume the kids love. This is by far the most cost effective costume option I'm sharing with you today. We glued scraps of felt onto oversize white tees for our shirts, fashioned dog collars out of ribbon, and made ears with Dollar Store headbands and more felt. Paired with black leggings and an eyeliner nose, this look is simple and cheap! Plus, you can reuse these costumes for your 101 Day of School Celebration! Everyone will be wowing at how PAWsome your team looks in these simple costumes.
The Four Seasons
When our team whittled down to just four, the seasons were an easy solution for our Halloween needs (can you tell we are all about pairing oversized tees with leggings?!). This year, I was summer. I used puff paint to decorate my top and sewed on sunflowers from the clearance bin at Michael's. My sunshine head piece was simply a foam visor (99 cents at the craft store) with more foam glued on. This look shows your kiddos that your team is united, no matter what the season!
Wizard of Oz
The Wizard of Oz is a timeless classic that can accommodate many group sizes. Of course, we went with the key characters of the wicked witch, the cowardly lion, the tin man, the scarecrow, and Dorothy. I took on the role Dorothy this year, and wore one of my favorite DIY costumes. Using this simple, new sew tutorial
, I had my costume ready in under an hour. After making my skirt, top, and shoes, I simply added a white long sleeve top for warmth and a basket with Toto (borrowed from one of my team members). Sporting these cute looks, you'll follow the yellow brick road to all the Reece's you can eat!
Still trying to find an idea? Let your students decide! Click here for a fun freebie. Your students will complete a writing prompt to help you decide on your Halloween costume! So cute.
What's your favorite costume? What look are you planning for this year? Sound off in the comments below...I'm always looking for new ideas!